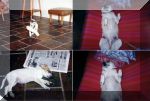 Ellie when we first got her in November 1993.
Then some years later, resting on the couch.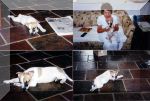 She's about six weeks old here, and you can
already see that she's got that cheeky look.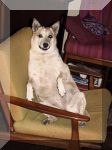 She sees us sit in a chair like that,
so she does it as well.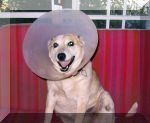 She's got arthtitis in her hips and it gives
her some pain unfortunately. So she chews
back legs sometimes. The bucket is to stop
her from doing that. She thinks it's funny ...
It's a long story but she's very popular
on a Brazilian forum. So here she is saying
hello to them.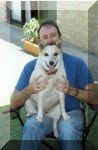 This was at a friend's party a few years ago. She loves posing for the camera!